Well here it is, my first post on my new food blog. Hopefully things will run smoothly! Basically the point of doing this blog is so people can read about an amateur cook (me!) trying to cook and see what I do right/wrong. I will write out what tips and notes I figure out or have during the cooking process, and hopefully post some pictures that don't come out too badly.So lets begin!
When I cook dinner, I have a few cookbooks I take recipes from. I'm not nearly good enough yet that I trust myself to actually make my own creations and have them taste good. My method is grab a cookbook, and make everything in order starting with the first recipe and ending with the last recipe. I've been doing this semi-successfully for over a year now. I have numerous cookbooks going at once, so when I use a recipe from there I'll give the name of the cookbook and write out the recipe.
Tonight I made a recipe from a cookbook called "Cuisine for Two" from the magazine "Cuisine". Their website is www.cuisineathome.com if you want to order their books. I really like their magazines/cookbooks since they show step-by-step how they make the food, and I will try to do the same.
The recipe tonight was "Balsamic Pork Tenderloin with Lemon-Honey Sauce". Now, growing up I wasn't a fan of pork and I think that was because I always just associated pork with DRY (sorry mom). Since I made myself make all these recipes from beginning to end, I've realized that I actually DO like pork! Here is the recipe:
Marinade:
1/4 cup balsamic vinegar
1 Tbs. whole-grain mustard
1 pork tenderloin, trimmed (12 oz.)
Salt and pepper
For the Grapes:
8 oz. red grape clusters
2 tsp. olive oil
Ground black pepper
For the Lemon-Honey Sauce:
2 Tbs. sliced shallots
1 tsp. olive oil
2 Tbs. dry white wine
1 sprig fresh rosemary
1/2 cup low-sodium chicken broth
2 Tbs. fresh lemon juice
1 Tbs. honey
1 Tbs. cold unsalted butter
- Preheat grill to medium-high. Lightly brush grates with vegetable oil.
- Whisk balsamic and mustard together in a shallow baking dish. Add pork and turn meat to coat; marinate 10 minutes.
- Season pork with salt and pepper; place pork directly over heat. Cover and grill 5 minutes. Turn pork and grill 5 minutes more, or until pork registers 155ºF on an instant-read thermometer. Remove pork from grill, let rest for 5 minutes, then slice into four pieces.
- Toss grapes with oil and season with pepper. Grill grapes over direct heat, covered, for 10 minutes.
- Saute shallots in oil in a saucepan over medium heat for 2 minutes. Deglaze pan with wine, add rosemary, and cook 2 minutes. Add broth, lemon juice, and honey. Bring to a simmer and cook until liquid is reduced to 1/4 cup, 3-4 minutes. Discard rosemary sprig and whisk in butter. Serve with sauce.
Note: One thing I've learned over the past year of cooking is make sure you have all your ingredients out, and prepared like the recipe asks for before you start. I don't know why it took me so long to realize this, but when you got food on the stove, and then realize you need to chop this, and pour that... it just gets hectic and food ends up getting burned or cold before anything else is finished.
So here is what *I* did:
I bought a pork tenderloin and when I unwrapped it lo-and-behold there was actually TWO in the package. I could either double the recipe and save the rest for leftovers, or freeze the other tenderloin I didn't need. I decided to freeze it since I'm sure I'll come across another recipe needing pork tenderloin and I won't have to buy one then.
Looks good huh? Here's the pork marinating the balsamic/mustard sauce.
One way that I really deviated from the recipe as written is that it's WINTER here, and I didn't feel like getting the grill up and going (I also have a strange phobia of actually grilling on a real grill, but that's beside the point), so I decided to use a grill pan and grill it on the stove in the kitchen instead.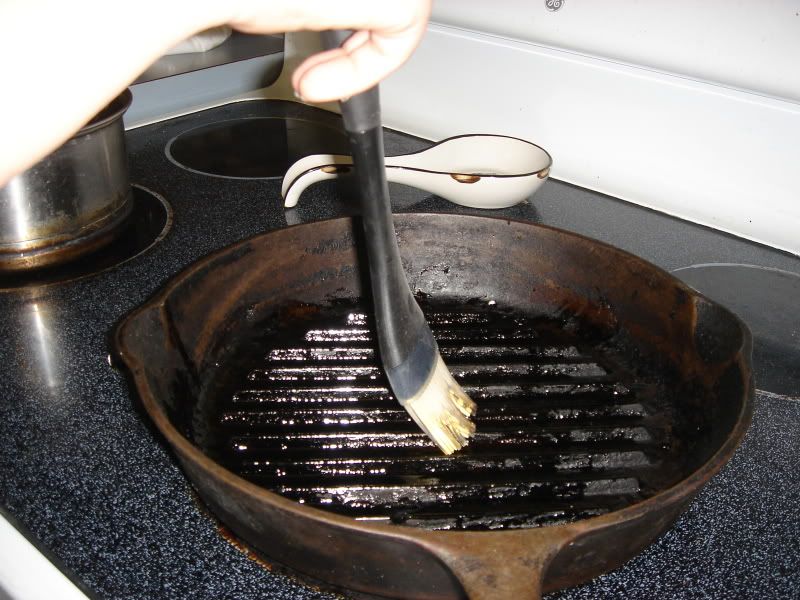 Brush it with oil so it doesn't stick when you turn it over. (Same goes if you're using a regular grill.)
I suppose now would be a good time to say this really isn't the best time to be starting this blog since my kitchen is in the middle of being renovated. This means that we don't have a range hood over the stove to help with all the smoke. So here's a warning: This will be SMOKEY if you want to grill it in the house. I opened the window and even though it was cold, I managed to keep from setting off the smoke alarms.
Another thing I noticed about this: Make sure your meat is at room temperature before you start cooking. What I did basically was take it out of the refrigerator and throw it in the marinade, then throw it on the grill. This keeps your internal temperature from rising to the desired "doneness". The outside of the pork was getting rather dark while I was waiting for the internal temperature to reach 155 before I finally decided that enough was enough. It took it off the pan, set it on a plate and tented it with some aluminum foil. I figured it would still continue to "cook" a little more, and trichinosis be damned. (Note: It's actually pretty safe to eat pink pork. Due to new techniques, most pigs now don't have trichinosis. There were only 5 American reported in 2004 to have trichinosis, and this was believed to have been from wild game, not pork. Besides, dry pork = unhappy me.)
While I let the pork rest, I threw the grapes on the pan to cook. This was a first for me, I've never even heard of grilling grapes before, but I'm willing to try anything! This is why I love trying all these recipes, I might find something completely out-there that I love. While the grapes grilled, I started in on the lemon-honey sauce.
Here's the wine deglazing the pan.
One thing I've noticed is that while a recipe will say "...add all this liquid and let it reduce by half, 3-4 minutes" it ends up taking me more along the lines of 7-8 minutes, and I don't know why this is. But there you go, sometimes don't go completely by what the recipe says and just eyeball it until it looks right to you.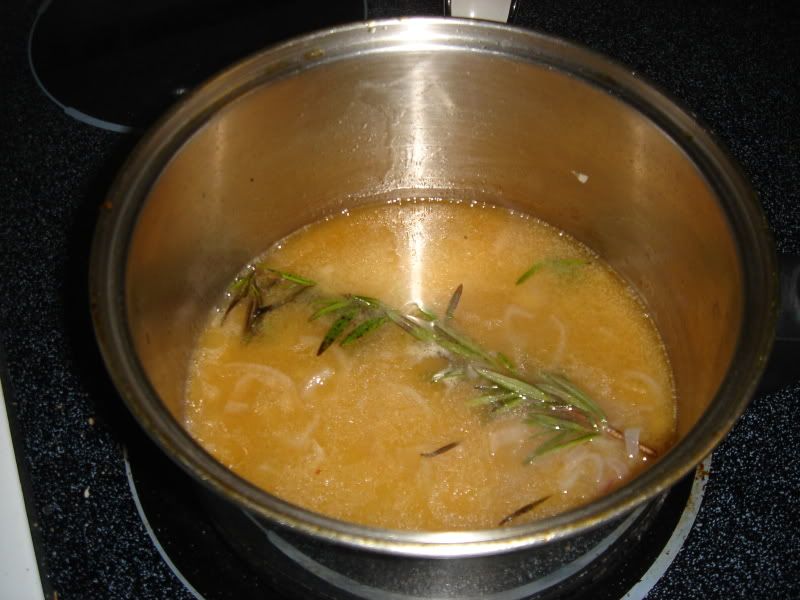 Take out the rosemary and whisk in the butter and you have yourself a pretty damn good sauce.
I cut the honey and lemon in half personally since I'm not a huge fan of sweet sauces, and I know my boyfriend isn't a fan of lemon, so this should appease us both.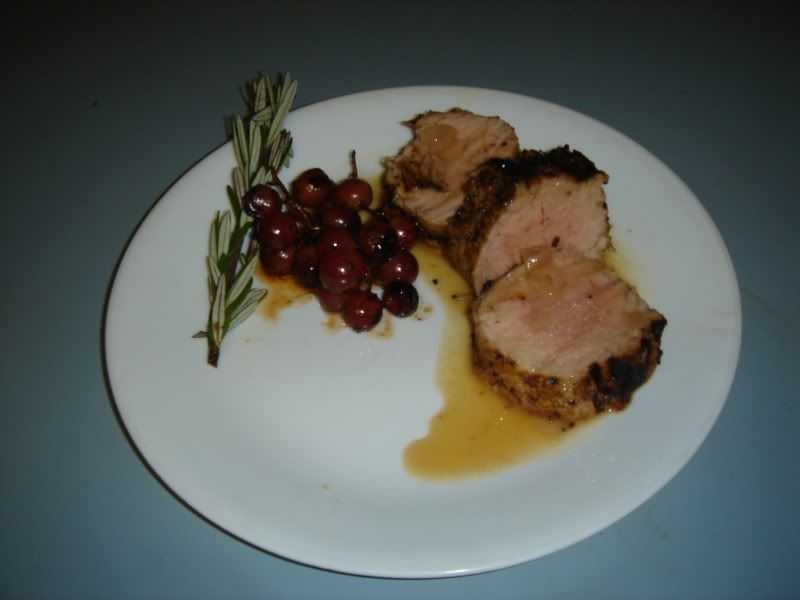 Here's the final dish! You can pick any side you want to go with it, I had some leftover potato salad I threw on the plate to eat with it.
I'm happy I didn't overcook the pork. The texture was perfect and juicy. The grapes tasted really good actually, but I really think they're more for presentation than anything else since it's a real pain in the butt to try to get the grapes off the stem to eat. I also cut the pork in 10 slices instead of the 4 the recipe calls for, since if I did 4 slices they would have been really really thick. I would make this recipe again, it came out real good.