I flipped through a few different cookbooks today trying to figure out what I wanted to try cooking for the blog today when I managed to stumble across a cookbook I had bought last year that I hadn't even opened yet. It was from Cuisine at Home again, this cookbook was called "Weeknight Menus". (They really should just put me on their payroll.) The first recipe on the list was "Chicken Parmesan". We have a winner!
Amazing as it sounds, I don't think I've ever had chicken Parmesan before. I think it is one of those items that I just tend to skim over on restaurant menus while I look for the steak or fish. Even though I cook it often, I tend to associate chicken with boring. Here's hoping that this dish isn't lumped into that category!
Chicken Parmesan with Fresh Tomato Relish
2/3 cup panko bread crumbs
1/3 cup grated Parmesan cheese
1/2 cup all-purpose flour
2 eggs, beaten
4 boneless, skinless chicken breasts, trimmed and pounded 1/4-inch-thick (5 oz. each)
Kosher salt and black pepper to taste
3 Tbs. extra-virgin olive oil
1/2 cup shredded fresh mozzarella cheese
1 cup chopped cherry tomatoes
2 Tbs. chopped fresh basil leaves
1 Tbs. minced capers
1 Tbs. red wine vinegar
1 tsp. tomato paste
- Preheat oven to 450ºF.
- Combine panko and Parmesan. Place panko mixture, flour, and eggs separately in three shallow dishes. Cut each chicken breast in half; season with salt and pepper. Dredge cutlets in flour, egg, and panko mixture.
- Heat 2 Tbs. oil in a large saute pan over medium-high heat. Saute chicken, turning once, until golden, 2-3 minutes per side. Remove cutlets to a baking sheet; top each with 1 Tbs. mozzarella. Cook cutlets in oven until cheese melts and chicken is cooked through, about 5 minutes.
- Combine tomatoes, basil, capers, vinegar, tomato paste, and the remaining 1 Tbs. oil for relish in a bowl; season with salt and pepper. Serve chicken over pesto pasta, topped with the relish.
I also made the suggested side, Pesto Pasta:
8 oz. dry mini lasagna noodles (mafalda; 6 cups)
2/3 cup homemade or purchased pesto
1 Tbs. lemon juice
- Cook pasta according to package diretions; drain. Toss together drained hot pasta, pesto, and lemon juice in a large bowl. Serve immediately.
Here's how it went down:
First of all, I should mention that having a good knife is probably the best investment you can make in your kitchen.  I do not have a good knife. Oh, it cuts things, but you really tend to notice the quality of your knife when you try to slice tomatoes. While I was preparing the ingredients, one of the things I had to do was chop up some cherry tomatoes. Little dinky tiny cherry tomatoes. As I tried to saw through them (and half the time ended up just smooshing the poor bastards), I realized how dangerous this could be. A dull knife causes you to press down harder, work harder, and thus you can end up slipping and really injuring yourself more with the dull knife than you would with a really sharp one. I have decided that a new knife will be my next investment (or, ahem, it would make an awesome birthday present as well.)
All nice and prepared.
The basil was quite an ordeal to get for this recipe by the way. I went to two different grocery stores to find one that had fresh basil, and when I finally did find it half of the basil was an ugly brown color, ugh. Of course I didn't notice until I got home, otherwise Kroger would be reimbursing me half my money (at least.)
Another funny random thing I did: We have chickens and ducks that we raise. Not for eating (much to the disappointment to the men living in the house), but for eggs. So we always have random chicken eggs and duck eggs sitting around the counters. I grabbed what I thought was a chicken egg to crack, it turns out it was a duck egg. They don't taste any different, but the shells on duck eggs are much harder to crack. You know whereas you sneeze too hard and you break the chicken egg, the duck egg you have to hit with a hammer to break. Ok, not that funny but I was amused. Onward.
Another ordeal I had to deal with was pounding out the chicken breasts. I had one chicken breast from a package I had bought earlier, and three other chicken breasts from a different package. The one from the first package was a LOT larger than the other three, so it was difficult to make them all the same size. Also difficult was the fact that I couldn't find a meat pounder to save my life. Like I mentioned in the blog before, our kitchen is under renovation, so everything that was in drawers and cabinets is now packed away into random boxes in different rooms of the house. In desperation, I tried a rolling pin: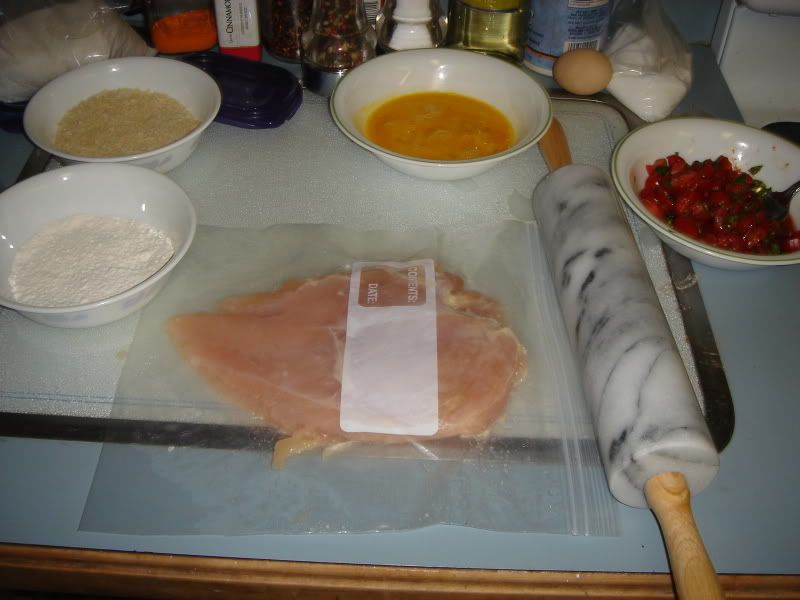 Didn't work so well. Plus, it's a pretty awesome rolling pin and I didn't want to ruin it. Finally I found a cheap wooden meat pounder and that seemed to work semi-decently (after throwing all my weight into it smashing the chicken). I find it helpful when pounding chicken to put it into a ziplock bag. Don't close it, but that way it keeps from having raw chicken fly all over your kitchen (and yourself).
The next part was pretty easy, just cut them in half then dredge and saute. My only issue was one of the chicken breasts didn't pound out so thinly, so it took longer to cook than the thinner ones.
Also as a side note, remember to wash your hands thoroughly after handling raw chicken. I know this is something that is often beat into our heads, but it bears repeating often.
Before I started to saute the chicken, I had put a pot of water on to boil for the pasta. I originally had intended to saute four chicken breasts at a time, but as you can see from the picture I could really only fit two in at a time. This, on top of the fact that I had a much thicker chicken breast to cook (which took longer) caused the pasta to be done way ahead of time.
That's ok, just part of my learning curve still. I didn't change the recipe so much this time, but one thing that I did do was instead of using fresh mozzarella and grating it, I just bought a package of it pre-shredded from the store. For two reasons: Convenience and price. I'm too poor to be buying fresh mozzarella all the time.
The recipe for the pesto pasta says to use homemade or purchased pesto. Luckily for me, my mom grew about 3,000 pounds of basil last year and made a whole bunch of pesto out of it! She froze it in cubes in an ice-tray. I defrosted three of them and tossed them into the pasta. Another thing; if you're at the store looking for the pasta, look for pasta called "mafalda" and not "mini-lasagna" which was what I was doing :)
The final result! It tasted pretty good. If I make it again, I would make more of the tomato mixture since I thought it went awesome with the chicken and could have ate a lot more of it. The pesto pasta was really good as well. I didn't notice until I was typing the recipe for this blog that I completely forgot to put in the lemon juice for the pasta. My boyfriend will be happy about that. However, in my opinion the lemon juice would only have made it taste better. Personally only one piece of chicken was enough for me, so keep that in mind if you're going to make this recipe, since you'll be making a total of 8 pieces of chicken. Enjoy!