First Impressions
At the store, the various Nook devices are lined up next to each other. Immediately it was obvious that the display on the new tablet is inferior to the higher priced options. With my prescription polarized sunglasses on , it was actually quite difficult to see the screen... The "Nook by Samsung" device next to it was bright and vivid by comparison. Don't expect to use this one at the beach!
Once at home, the tablet is well packed, in a sensibly sized box for its contents. Along with the device itself, you get a 1A AC adapter and a 1 meter usb cable. My tablet shipped with a flat battery and required charging before turning on.
The tablet itself feels light, in fact at 250 grams is noticeably lighter than my 2012 Nexus 7 of 367 grams. It's a bit smaller as well, at about 108mm x 188mm x 10mm. The right side has power and volume buttons, the top has a headphone jack and Micro USB for charging, and on the left is a MicroSD card slot for easily adding storage. The display has a fairly thick bezel, right at 1cm on the sides and 1.5cm top and bottom.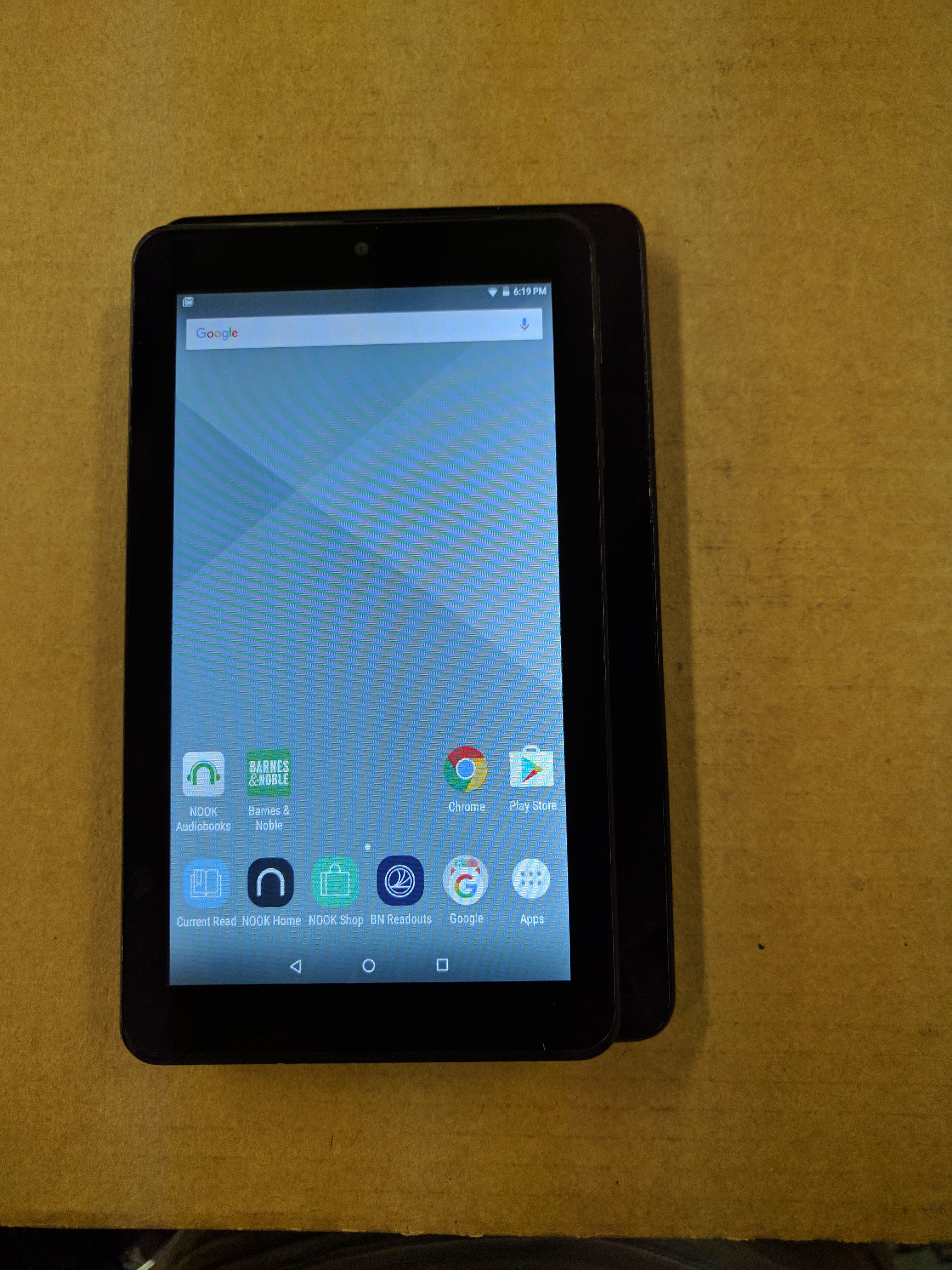 a>
The CPU is identified as a Mediatek MT8163, which is a quad core, 64 bit Cortex-A53 , 1GB of RAM, and 8GB f flash storage. Dual band wifi is a nice feature, letting me use my 5ghz network, up to 802.11n (no ac). The screen is a 1024x600 display, which is nothing to brag about but works pretty well at this size. Android 6.0.0 with September 2016 security update was installed, a few months behind at this point. We'll see how they are about future updates, but as a Nexus 6p owner I am spoiled by Google's monthly updates.
Android itself is relatively stock. The Nook apps are pre-installed, but otherwise you are getting a blank slate in which to add your own apps and games.  
Running PCMark's Work 2.0 benchmark, we get an overall score of 3063. Clearly this is not a high performance device, but it is surprisingly fast for a $50 device.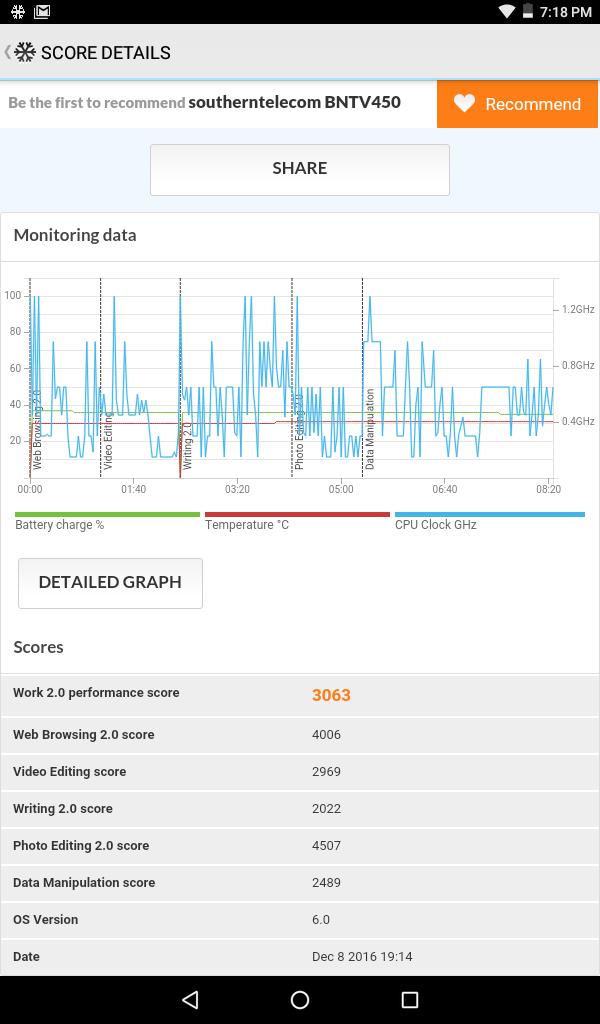 /p>
While performance is generally good, the same can't really be said about the cameras. This device has both front and rear cameras, 0.3 and 2 megapixels respectively. In summary, even in the best conditions the photos are washed out and blurry. If you have anything less than full daylight conditions, expect dismal results. For video chats in well lit rooms, it might be acceptable. For photos, the best advice I have is not to bother.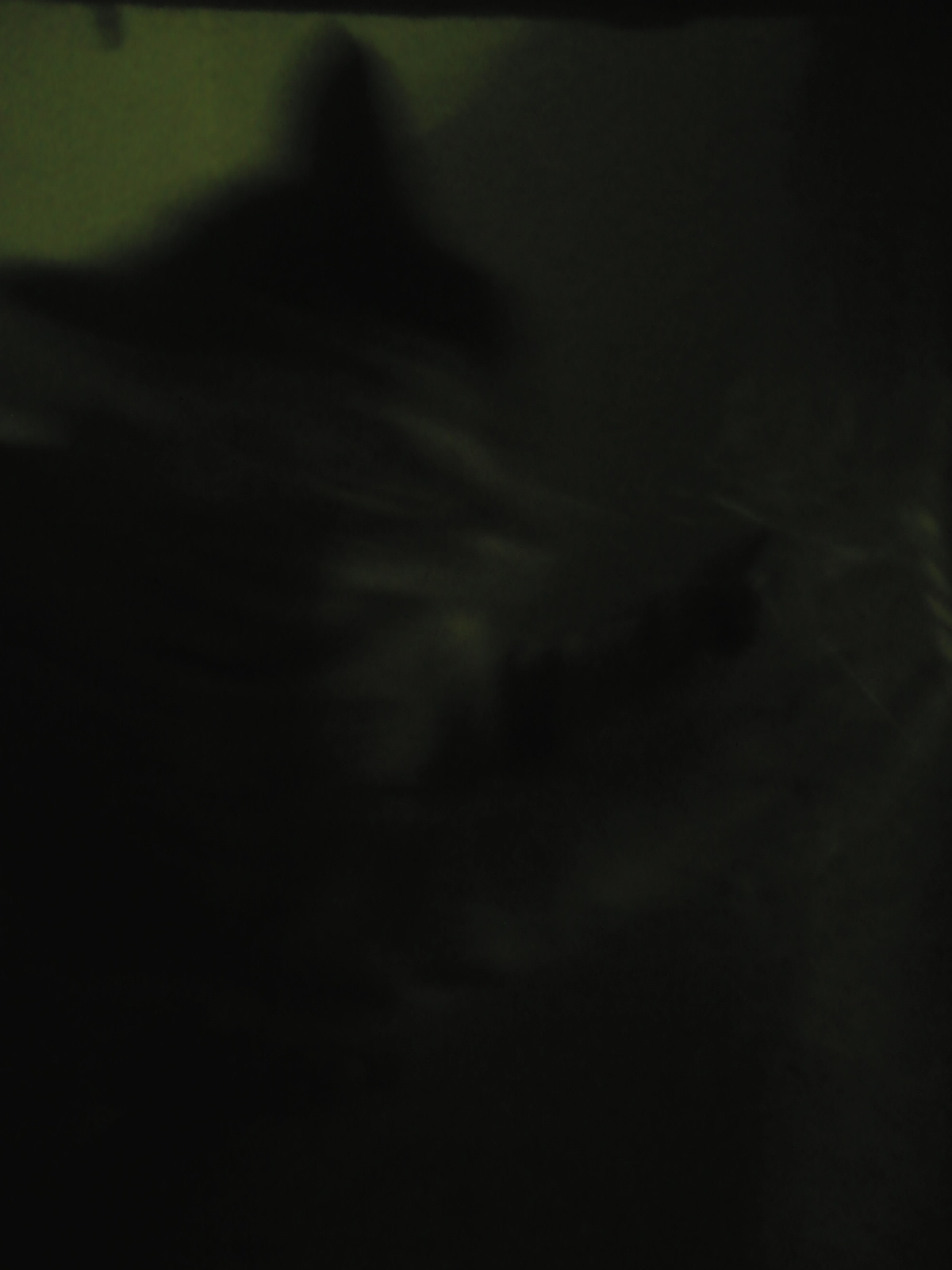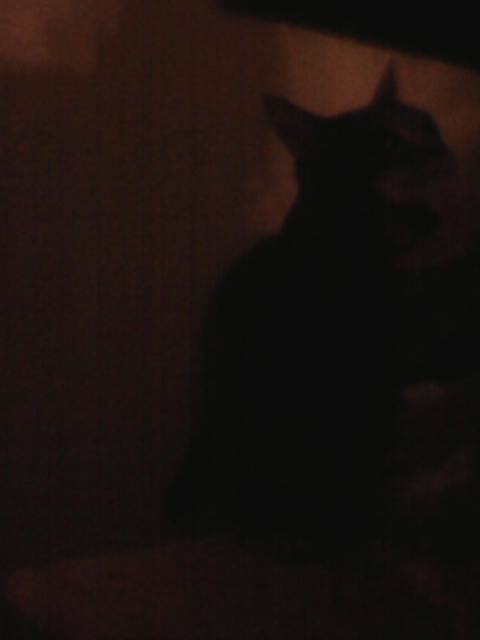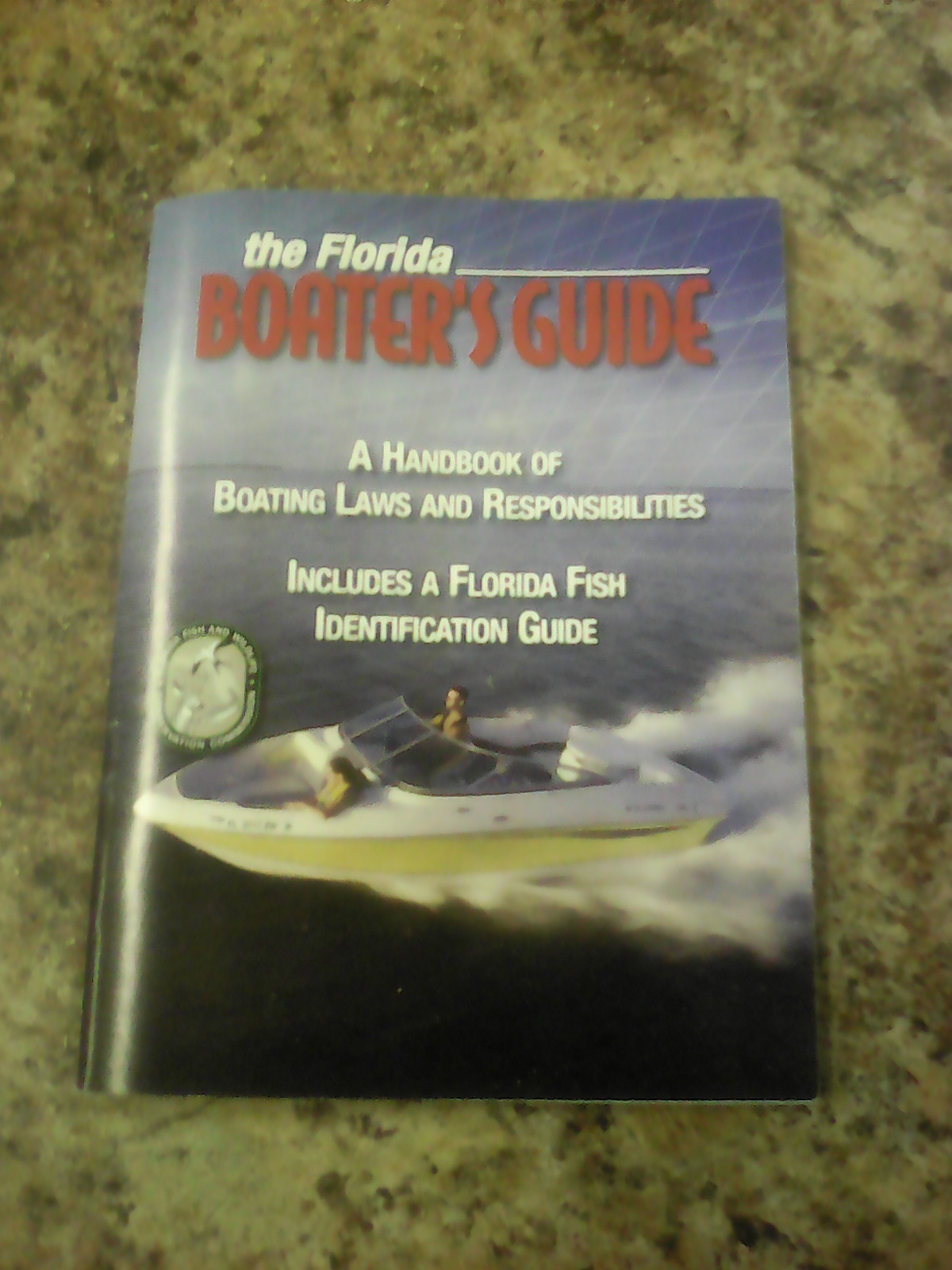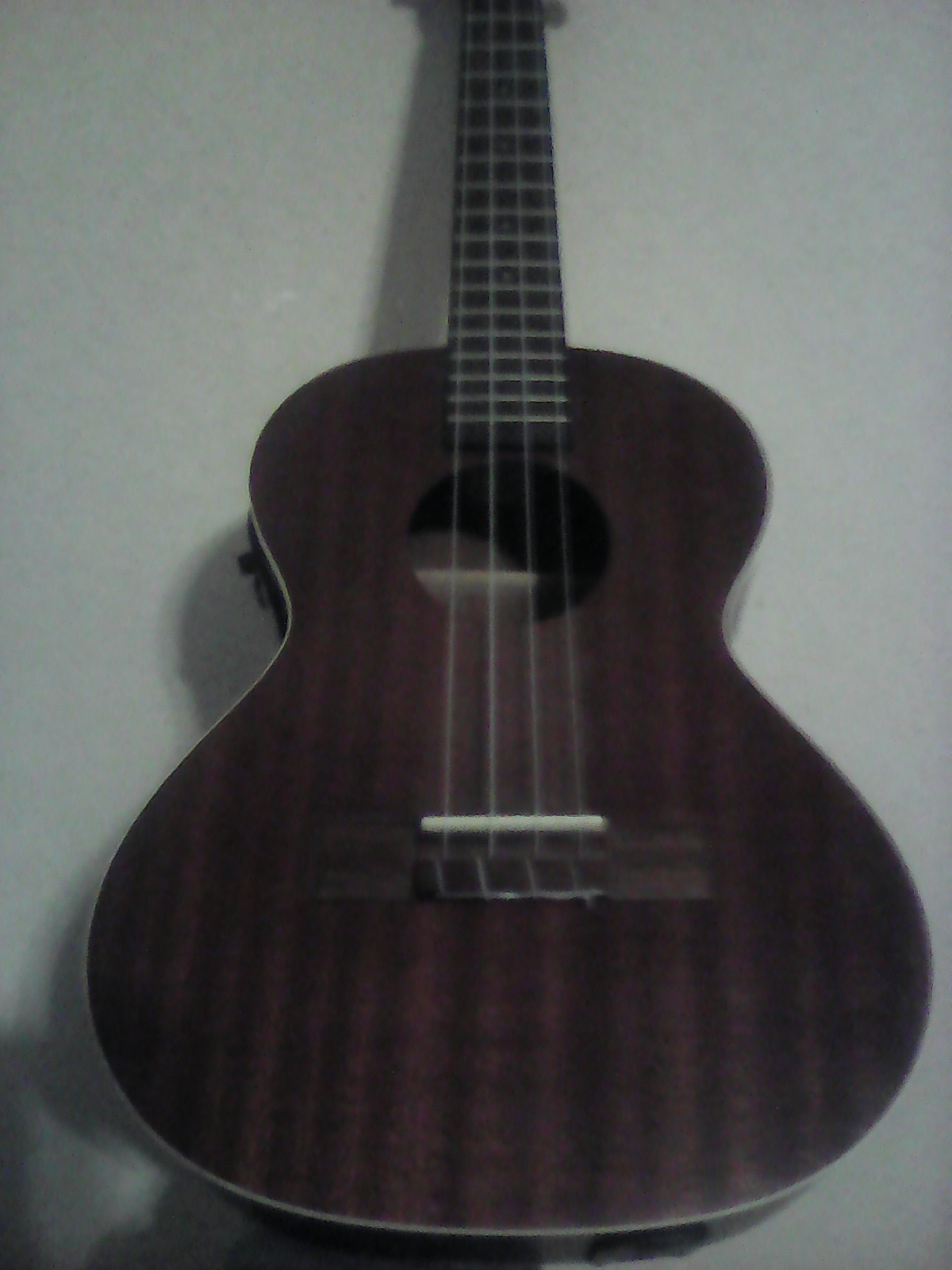 I can't stress enough just how poor the quality of the cameras are. These photos were all taken indoors in well lit areas.
While this device does not include GPS, I was pleasantly surprised to find that USB OTG worked out of the box, allowing me to connect my 3DR Iris+ drone with the Tower app.By running a Bluetooth gps output app on my phone and a Bluetooth GPS receiver on the Nook, this should be an inexpensive way to get the full functionality of the Tower app.
Entering Developer mode on the Nook is the typical process of recent Android devices. In settings, go to About Tablet, and tap the "Build Number" line 7 times. Being a brand new device, there is not yet a method for rooting, but I expect that to change rather soon.
While this isn't really an e-reader oriented review, i did spend some time reading Reddit with the Reddit Is Fun app in bed. I found that the screen's brightness control did not allow me to turn the brightness down very far at all. It's lowest setting is still pretty bright, and will make your significant other unhappy if they're trying to sleep while you're trying to read. For a device marketed towards reading, it's surprisingly bad in both dark and bright situations.
Moving to YouTube, the limited resolution of the display (1024x600!) puts you in a weird resolution where you're either up-scaling 480p or down-scaling 720p. The visual result is adequate if not stunning, but the audio will let you down. With a single tiny rear-facing speaker, it's not much better than a pair of headphones laying on your desk. The sound is small and tinny, and rather muted when sitting on a desk or table. You'll want to pack headphones for most situations.  Video calls with Hangouts were usable if not wonderful, good enough for chats with family but not something you'd use for business meetings.
Wifi performance was pretty good, using Speedtest.net's app I was able to reliably reach almost 50 Mbps in each direction. Supporting 802.11 b/g/n that's about what you can expect, but is about half as fast as my Nexus 6P which supports 802.11ac. Range was pretty good, easily covering my workshop and surrounding parking lot.
Using the included 1A charger and the Ampere app, I observed 970mA charge rate. None of my higher powered chargers were able to exceed that measurement. I can't validate that the Ampere app is accurate, however it does show a lower rate (470mA) when plugged into a PC USB port.
It's too soon to say too much about battery performance, but my impression so far is "not awesome". I'll update this post in the future with battery performance data once I've been able to test it.
Overall
So it's hard to be too down on this tablet, the price point allows for a lot of forgiveness.
If you're a parent, looking for an inexpensive tablet for your child, this thing is great. They can play games, use social media, watch videos, and video chat with their friends and family, just get them some headphones to go with it. You'll want to add a case to protect it from drops, but otherwise it's hard to recommend anything more expensive.
For an adult who has simple needs, again it's an adequate if not amazing experience. The only real gripes I have are a lack of GPS, but it's forgivable. The real question is, is it worth having a tablet that's hardly bigger than your phone? For $50 it's in the "impulse buy" territory, but almost any tablet made in the last 2 or 3 years will be a superior experience.
For a developer or tinkerer, this looks like a great buy. My current tablets (HP Touchpad and Nexus 7 2012) are showing their age, and this little guy is going to easily replace them. I prefer a physical device to an emulator for development and testing, and the performance and capabilities are more than adequate for developing and testing apps and mobile web sites.
For a book reader, I just don't see it. The e-paper devices are so much better for reading books, and so much more convenient to live with, I just can't see recommending this (or Amazon's Kindle Fire) for a book reader. If you read comics or magazines or something with color, the difference in the display between this and the Nook by Samsung models next to it in the store was immediately obvious.  If I were a serious comic or magazine reader, just seeing the display at the store would be enough to convince me to spend the money on the pricier model, without question. This device just does not make sense to me as an e-book reader, there's no other way to put it.
As a cheap Android device, I'm happy as can be with it. It's not a primary device, but I'll be using it daily. The running theme through this is "adequate", and that's exactly what I needed.
Update 1: Compared to Amazon Fire HD
If you've been thinking about the Amazon Fire tablets, the choice seems pretty clear. The Fire HD 8 has marginally better specs (really just a slight bump in scren size and resolution) at nearly double the price, and the Fire 7 has the same screen but a lesser CPU at the same price. Both Fire tablets run an older version of Android (Lollipop) and do not include the Play Store.
Please leave any questions or comments and I'll do my best to address them!